As I was sitting in the rain,
I watched a game that wasn't played.
It wasn't played again that day...
So Peg and I went away.

Peggy and I kinda went to the ball game yesterday, although the game we kinda watched - the Red vs. the White Sox - never officially happened.

The game started at 2:05. At 2:11, it was delayed by rain, as well as by an impressive booming lightning display that crackled around the Pru tower. About 45 minutes later the tarp
crew cleaned up the field, the Sox pitcher Matt Clement was succumbing to a barrage of hits from those other Sox, and we got about another hours worth of play in before the thunder, lightning and rains came again.

We had seats under the roof - great seats in our old reliable, Section 30, this time in Row 2, in the old scarred, rickety wooden seats right behind the new, comfortable, no-personality rounded for the butt plastic seats - right on the third base line, so we hung around until a little after 5 when an announcement finally flashed on the scoreboard that we were looking at another hour - at least - before play would start again. So we packed ourselves up, and walked to the T stop with many others of teeming Red Sox Nation, and took the Green Line back to Park St. and the Red Line back to the Alewife where the Mini was parked, and went over to Jasper White's corporate take on the New
England clam shack, "The Summer Shack," and had the usual great meal at just about the time we would have if the game had been played out.

Both of us fagged out before the 11 o'clock news, so we didn't know until this morning that the game was eventually called a little before 8, just about the time we were leaving the Shack, and, since they only got just a bit over 3 innings in, that means we can use our tickets for a make-up game at some point... once the two Soxes figure out holes in their mutual schedules. The Globe says the likely dates, Labor Day or sometime post-season in October, are both problematic. I'm hoping for October, as if it's Labor Day we'll end up giving away the tickets or selling them on eBay, as we'll be up in Maine then. Of course as Peggy says, "We can get up early and drive down."

My wife is the prototypical Red Sox fan, as is nearly everyone from the great Commonwealth. Although it's little talked about, there's a test they run shortly after birth, and if the Fenway gene isn't there, the poor babies get shipped off to the Bronx or somewhere, and are never talked about again. Peg passed the test, obviously. I'm not sure I would have, as I bounced between the Southwest and the two Coasts during my formative years and if I ever thought about "my" team at all it would probably have been the Yankees. The first baseball game I ever saw was at Yankee Stadium; and probably the only players I would have recognized with any degree of confidence were Mickey Mantle and Roger Maris.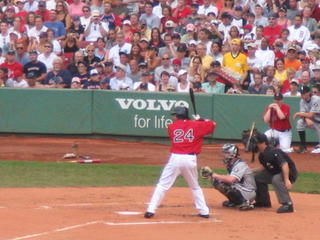 I've never been all that much of a baseball fan. I can sit in front of the tube for hours when football season hits and once drove for over an hour each way for almost a complete season to sit on freezing stands warmed only by frequent nips from a pocket flask in order to watch a beloved kid play high school football, but I can take or leave the ol' ball game. But Fenway is a kick, a little band box of a ballpark that always looks so surprisingly tiny and green when you emerge out of the tunnel. And on a game day, the experience starts from the moment you get on public transportation, with people dressed in every variation of Red Sox gear imaginable, from babies to grandparents. My favorite t-shirt of this trip, the one that read "A-Rod swallows."

You walk from the T station and listen to the shillers flog and ask for tickets, and the CITGO sign is suddenly there, and the aroma of sausage cooking hits, and the crowds get bigger and the low chants of "Need tickets?" "Have tickets?" get more insistent.

And you have the traditional overpriced food and beer - this time we did Cuban sandwiches at El Tiantes - balancing it as well as you can as you disappear into the darkness of Fenway, wander around until you figure out where you are... and then all of a sudden its there - God's conception of the perfect ball field.

I don't love the game, but I love the people at Fenway, especially the kids. In the next seat I met my new best friend, Joe, five or six if I had to guess, wearing a Sox cap bigger than him, and who was as much in my seat as his own, and who proceeded to shower me in peanut shells as they exploded between his fingers, and ice cream drippings, and the continuous chatter of a happy boy who couldn't think of anything better in life than to be at the baseball game with his Dad.

I'm hoping we'll see Joe again when the makeup game is played. There's nothing like a true Fenway Fan to help you enjoy the game.

Photos courtesy of PWB