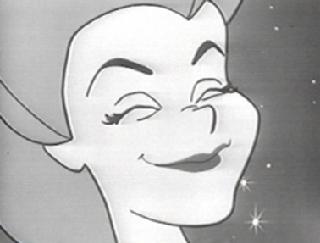 One of my guilty secrets is that a large reason behind why I'm a writer is because of a TV series.

Bewitched ran for eight years- 1964 to 1972 - roughly analogous to the period when my hormones were raging at their highest levels. I wanted to be Darrin Stephens, not because the idea of coming up with weird advertising campaigns was attractive (even though it was). And not because the idea of commuting into the city every day and then returning to the 'burbs and a nightly martini sounded cool (even though it did).

No. I wanted witchy nookie. Specific witchy nookie. Samantha Stephens. I wanted a wife who did wonderful mugging faces and double-takes. I wanted a wife who went "Welllll..." when pressed for an answer she didn't want to give. I wanted a wife who looked great in mini skirts, and even better in Capris. I wanted a wife who could wiggle her nose.

Most of all, I wanted to be married to a witch. A specific witch. Hey, Sam, you know what? Darrin's an idiot. Babes, you want to do the nose twitch thing and put us on an island in the Caribbean with hot and cold running money, I'm for it. You want to do lunch in Paris, hang on honey, let me grab my beret. You don't want to do the chores when you know with a sweep of your arms and a zing musical cue everything's done? What, do I look stupid? Do your thing, and come back to bed, baby. There's lots of little Tabithas and Adams to be making.

Give me a witchy theme and I'm a happy camper. My mother refused to allow me to rename one of our cats Pyewacket after the "Bell, Book, and Candle" familiar (the movie and originally play that Bewitched was probably based on), claiming it would confuse her and annoy the cat.

I'm probably one of the few people in the world, including the casts' mothers, who saw every episode of the very bad one-season Bewitched sequel, Tabitha.

I forced the ever-suffering Peg to sit through endless episodes of "Sabrina, the Teenage Witch" starring Melissa Joan Hart as the world's longest-in-the-tooth teenager and the Woman Who is Everywhere, Caroline Rhea, because it was as close as anything I could find to Bewitched. Thanks to that show, Salem the cat's wail of "I'm just a cat," was our catch-phrase in answer to any complaint for several months.

I'm awaiting the big screen version of Bewitched with both fear and anticipation. Anticipation: I've read the script and I like the "What would Sam do?" theme. Fear: Nicole Kidman. Need I say more?

And, as I said, I'm the man I am today because of Darrin Stephens' job. I never got into agency work, which may be why I never married a witch, but I worked my way through various advertising and p.r. departments from copywriter, to manager, to creative director... which as far as I could tell, all of which is what Darrin was supposed to be doing in the strange two-man agency that was McMann and Tate. Actually, Darrin was an illustrator, too, but I can't draw.

There was a reason I started this rant. Ah, here it is. The Boston Globe reports that the TV Land cable network plans to honor Elizabeth Montgomery in Salem with a 9-foot bronze statue of her as Sam sitting sidesaddle on a broom.

As is usual with everything, there are both proponents and opponents of the idea. Salem's mayor and witch community is generally for it, figuring it as tourism boosterism. Opponents claim it's just crass commercialism on TV Land's part (well, duh!). The winner of the most geeky argument, one critic who is obviously another Bewitched fan notes that the series was set in Westport, Connecticut, not Salem, Massachusetts.
''The connection to Salem is tenuous at best," said John Carr, a former member of the city's Historical Commission. ''They didn't live in Salem on that show. They came here 40 years ago to film three or four episodes, and now we're going to put up a 'Bewitched' statue at one of our most visible intersections."

The Salem Redevelopment Authority will take a final vote on the plan May 17. If erected, the statue will stand in a downtown park at the corner of Essex and Washington streets.

And I'll be there for the dedication.