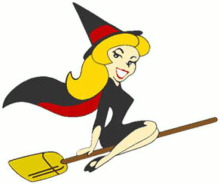 "

Witches are to Salem what the Red Sox are to Boston

."
Link to "The Salem News" story
.
Link to another "The Salem News" story
that keeps on witchily appearing and disappearing.
Also
a link to a NPR story
where, if you listen to the full report, you'll be rewarded with a short excerpt of someone (note to self: track this down*) singing the "
Bewitched
" theme.
*Tracked: Here's a
link to an MP3 file of Ms. Peggy Lee singing the theme to "Bewitched."
via
Harpies Bizarre
where all things witchy can be found