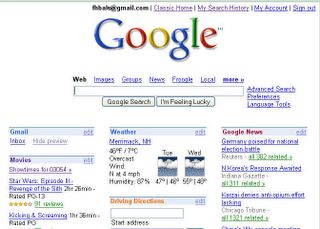 Google gets more Yahoo-like with the Google personalized homepage; currently in Beta from Google Labs.

I installed it over the weekend, and am still test-driving, but my initial reaction is positive. Like knowing whether I have gMail, and one-click access. Movie info is useful. Weather info is semi-useful (I can look out the window, too).

News has the potential to be useful if they work more on customization features. I'd like it tied into Google alerts, for instance, and custom feeds from the various blogs I monitor. But not a bad first step.